Have you heard of it?
In 2020 major regulatory changes will be required for the following aviation technical entities
Design Organisation (Part 21 J DOA)
Production Organisation (Part 21 G POA)
CAMO Organisation (Part-M)
Maintenance Organisation (Part-145)
In this article you will learn everything you need to know about the upcoming changes and the introduction of the EASA Management System. You will learn what will change in concrete terms, when the changes will come into effect, and what steps you need to take to remain compliant.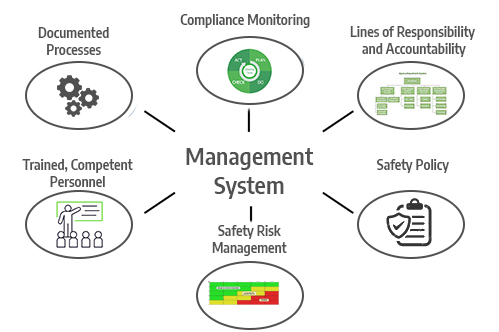 EASA Management System, Safety Management & Compliance Monitoring
What are the most important innovations?
So far, the technical organisations fell under the Commission Regulation (EU) No 1321/2014. This regulation will be revised with the new law. Dedicated regulations for the respective areas will be introduced. Among other things, the already expected since 2016 Part-CAMO, who will replace the Part-M by name. But also companies that are approved as Part-145, Part-21 will be affected by this requirement.
The following changes are expected:
Introduction Safety Management Systems (SMS) according ICAO Annex 19

Introduction Compliance Monitoring Management (CMM)
Regulations Part 21.A.139/239, Part 145.A.200, CAMO.A.200 require the introduction of a Management System with the following components:
Trained, Competend Personnel

Clearly defined lines of responsibility and accountability
When will the regulation become legally binding?
Currently we are still in the rulemaking process. The publication of the Implementing Rules (IR), Acceptable Means of Compliance (AMC) and Guidance Material (GM) is scheduled for Q3 2020. Depending on how long the individual Member States suspend the introduction (opt out), the new regulation will therefore become binding for the aforementioned technical companies at the earliest in the second half of 2020. Update: Part-CAMO expected for March 2020.

What steps are necessary to ensure compliance with the new regulation?
As a first step, it makes sense to analyze what you already have. Experience has shown that you can use existing systems in the respective companies and build up on them. This can be, for example, a QM system according to ISO 9001.
After this inventory, you want to adapt the organisation´s documentation according to the new requirements.
Remember: Get everyone on board. The introduction of a management system that includes safety management and compliance monitoring is a change management relevant process that should not be underestimated. Therefore, it is important to involve all employees as soon as possible. And: The introduction of this system is not a sprint, but a marathon. A management system of this kind will be fully functional and established after 4-7 years.
As part of the introduction of the management system, it is important to train all employees involved in the processes. They should have a good understanding of the system's requirements in order to cope with their future work and to use the full potential of the system.
These steps are required to introduce the new management system
Do you belong to a Design Organisation / Production Organisation (Part 21), CAMO (Part-M), Maintenance Organisation (Part-145)?
Do you have questions about how to master the requirements of the new regulation?
Based on years of experience in safety and compliance, we can make the introduction of new requirements for your operation as efficient as possible. Contact us and we will see how we can work together.